Want more like this? Subscribe to the weekly Rascal Honey Hive newsletter.
As I was driving down College Avenue this morning, I saw the first sign of fall flutter past me. Leaves, barely golden, were beginning to fall onto the street as the breeze shook the branches. It's not even denim jacket weather here in Arkansas yet, but my daily obsession with the 10-day weather forecast tells me it will be chilly here soon enough.
There are two topics that have been top of mind for me lately: sustainability and inclusion. Later this week I'm walking for a second season in local designer Rosie Rose's fashion show at Northwest Arkansas Fashion Week. Rosie's show this season is actually a perfect blend of those two subjects, as she worked with local graphic artist Shelby Graff to repurpose upcycled fabrics. Rosie's show is always a crowd-pleaser, due in large part to her commit to diversity & inclusion on the runway. This season will be no exception.
What does size-inclusive mean, anyway? Thanks to the drama stirred up by a certain fashion designer boasting that her line was inclusive because she went up to a size 16, I haven't been able to get the subject off my mind. I always knew the fashion industry was willfully ignorant to the needs of plus size customers, but to see it laid out so boldly in Instagram comments was truly insulting. Later this month, I'll be exploring the topic of inclusion through a series of social experiments with other creators to illustrate the blind-spots, harsh realities, and missed opportunities still plaguing the plus size fashion industry.
Circling back to sustainability, almost everyone I know is reluctant to have items tailored, especially fast fashion pieces they aren't sure will last more than a few wears. This month we'll talk about the ways you can update your wardrobe that doesn't include buying new pieces, plus contributor Mayra Mejia will share tips on plus size vintage shopping.
I still haven't figured out what my Halloween costume will be, so if you have any ideas for me, please share them in the comments below!
Disclosure: This post contains affiliate links and products provided for editorial consideration. For more information, please refer to Rascal Honey's editorial policy.
What I'm shopping
These earrings that use the letters in the word HONEY (hello, totally on brand) to shift from one honey hue to another need to be mine immediately.
Since this site launched, I've embraced all things bee + honey + hive related, so these honey-themed earrings are the perfect intersection of all my buzzworthy interests.
What I'm wearing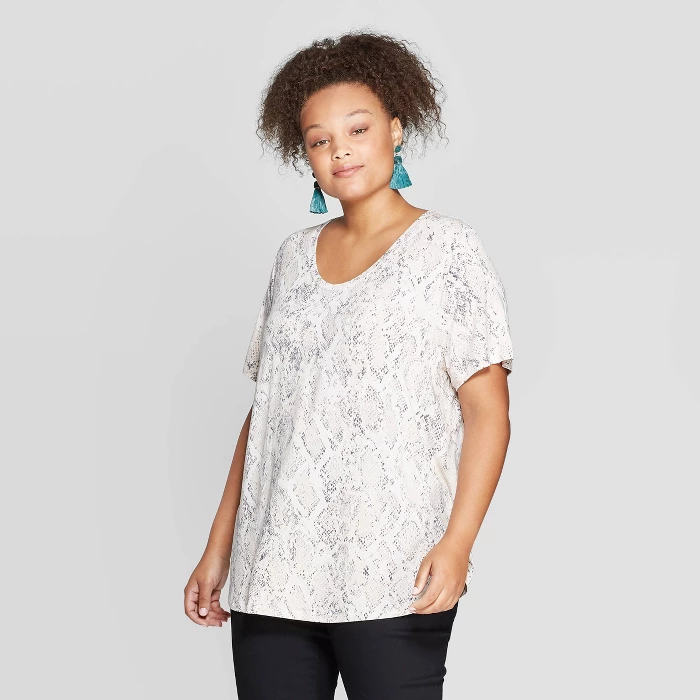 I've never been the neutral type, but when I saw this subtle snakeskin print t-shirt at Target, my heart skipped a beat. The photos don't do the blend of beige, white, grey, and black tones justice.
Leopard is trending hard this fall, but don't overlook adding a touch of snakeskin in where you can, and at $9, adding this tee is a no-brainer
What I'm reading
I listen intently to any advice that my friend Brianne Huntsman dishes out – especially on Twitter – so when she recommended the You Are A Badass series by author Jen Sincero, I took notice. I'm in the midst of You Are A Badass and You Are A Badass At Making Money, both in audiobook format because frankly, sometimes I need a pep talk in both departments.
The author narrates the audiobook versions, which means you get insight into her intention and the ability to hear her passion as she shares the easy to digest, practical information packed into every one of her books. If you love podcasts that help you improve your skills or get your mind right, you'll love these audiobooks. Get a free Audible download credit and a 30-day trial by visiting Audibletrial.com/RascalHoney.